Amplimesh is a kin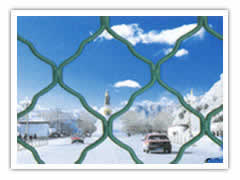 d of mesh system designed for safety against theft. Aluminum amplimesh screen is made with expanded aluminum mesh plates. Other materials like low carbon steel wire, stainless steel wire are also available for making of amplimesh.
Aluminium amplimesh grilles are available in natural anodised & bronze anodised finish. It is used popularly for making of security doors and windows.
Features: Amplimesh has the advantages of firm structure, long service and good horizon and ventilation. Aluminum amplimesh adds modern style to the doors and windows, also it offers non-rusting, beautiful appearance and light weight.
Uses: Aluminum amplimesh serves for security and theft preventing of doors and windows. It is also used for fencing of road, railway, airport, residences, port, garden, breeding and farming.
Specifications: Can be custom made.